1. September 2023 |
Expert Roundtable: Powering up the European energy transition and climate resilience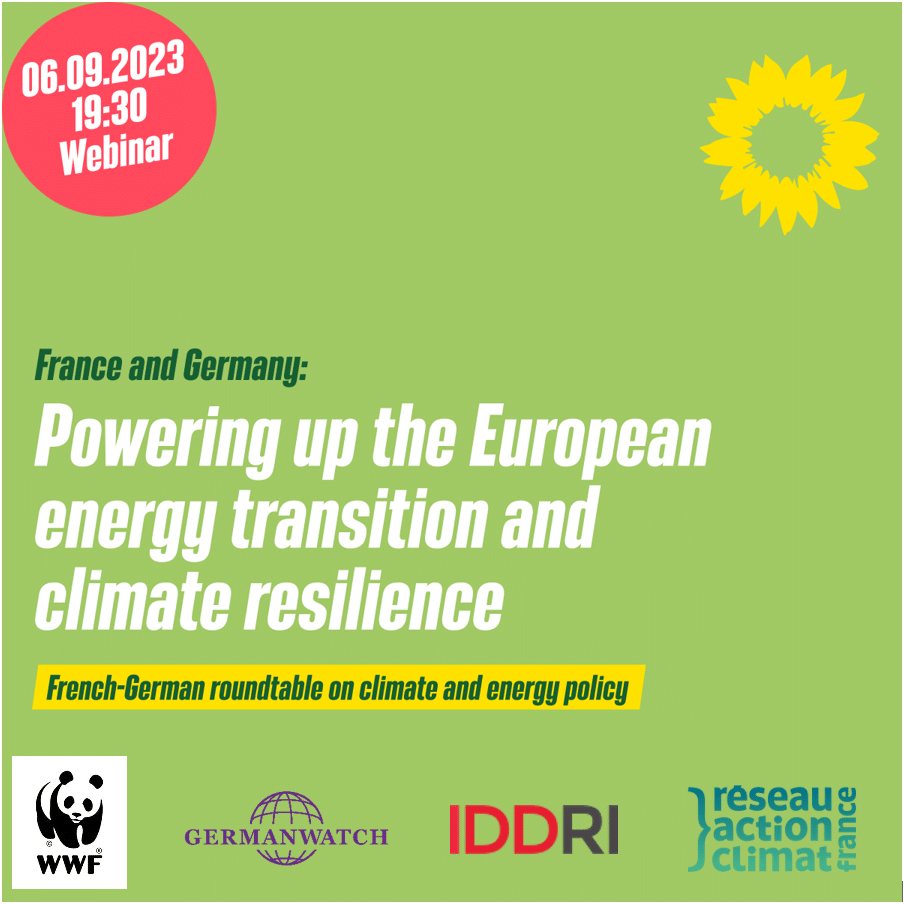 We're glad to invite you to the following event:

France and Germany: Powering up the European energy transition and climate resilience – A French-German expert roundtable on climate and energy policy
On: Wednesday, 6th of September 2023, 19:30, via Zoom
As the two largest economies and founding members of the European Union, France and Germany do share a special connection but also responsibility when it comes to reaching the EU's goals of climate neutrality and resilience.
Together with French and German experts from the NGO and think tank community, Anton Hofreiter, German MP and chairman of the Committee on affairs of the European Union, and French MP Julie Julie Laernoes , member of the Economic affairs Committee, want to discuss where France and Germany currently stand in their respective ambitions on energy and climate.
Where could the countries learn from each other, regarding best practices, but also possible lock-in effects? How can France and Germany cooperate to become drivers of the European energy transition and set the EU on its path to climate neutrality, both on the national and supranational level?
Toni and Julie will discuss these topics with:
– Sylwia Andralojc-Bodych – Senior Advisor – EU Climate Policy and Polish-German Cooperation at Germanwatch e.V.
– Sebastian Breer – Policy Advisor – Climate and Energy at WWF Germany
– Caroline Francois-Marsal – Policy Advisor on EU policies at RAC France (Réseau Action Climat)
– Andreas Rüdinger – Coordinator for the energy transition in France, at IDDRI (Institute for Sustainable Development and International Relations)
Join us on the 6th of September, 19:30 via Zoom for our webinar on these and further questions.